.

PAG40B-2V $115.00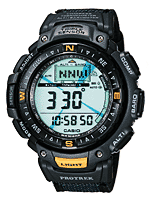 PAG40-3V $115.00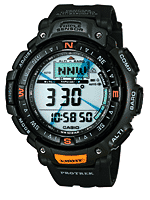 DIGITAL COMPASS
THERMOMETER
BAROMETER
ALTIMETER

CASIO PATHFINDER
MODEL# PAG40-3V
( LOWER LEFT, BLACK RESIN BAND )
MODLE# PAG40B-2V
( UPPER LEFT, BLUE NYLON BAND )
RETAIL PRICE: $200.00
100 meter water resistant.
Low temperature resistant.
Electro-luminescent backlight
Auto light switch. Backlight goes on when the watch is tilted toward your face.
Digital compass: measures and displays in 16 directions, Measuring range 0 to 359 degrees, measuring unit: 1 degree. Memory capacity: 5 sets of measurement data with direction, month, date, and measurements time. Abnormal magnetic field detect function. Bi-directional calibration and northerly calibration function. Rotating direction bezel.
Altimeter: measuring rang: -2,300 to 32,800 feet (-700 to 10,000meters). measuring unit: 20 ft (5 m).Auto memory function. Up to 50 sets of altitude memory with date and temperature. Target altitude alarm, graph display for target altitude, Altitude tendency graph. Changeover between feet and meters.
Barometer: Measuring range: 18.00 inHg to 32.45 inHg. (610 hPa to 1100 hPa), measuring unit 0.05 inHg (1 hPa), tendency graph display of atmospheric pressure. Changeover between inHg to hPa.
Thermometer: Measuring range: -14 degrees F to 140 degrees F. (-10 C to 60 C), measuring unit: 0.2F (0.1 C). Changeover between Celsius to Fahrenheit.
1/100 second stop watch. Measuring mode: elapsed time, split time, 1st-2nd place time.
Alarm chronograph.
Daily alarm.
Hourly time signal.
Regular time keeping: hour, minute, second, am/pm, month, date, day.
12/24-hour format.
Auto calendar.
Black resin strap on PAG40-3V.
Blue nylon / black leather strp on PAG40B-2V.